The art career of Pablo Picasso is known for two periods: the "Blue Period" in which he primarily used colder shades of blue and blue-green, and the "Rose Period" where he switched to warmer pink and orange colors.
Not to compare ourselves even remotely with one of the most inventive artists of all time, or with any artist for that matter, but the EpicentRx logo (which, however serviceable, is admittedly far from a work of art) has undergone a similar color change: from bluish green to blue-orange, as shown below.
Figure 1: EpicentRx logo color change from blue green to blue orange

The only reason to call attention to such an otherwise trivial change is that it coincides with a big upswing of momentum at EpicentRx: the award of Fast Track designation for RRx-001 as an anti-mucositis agent in head and neck cancer and the completion of the AdAPT-001 Phase 1 first-in-man clinical trial, which demonstrated safety and tolerability as well as promising signs of activity.
Also, the EpicentRx logo change from blue to orange happens to correspond with the "cold to hot" immunologic transition of tumors that has been observed with AdAPT-001. On administration, AdAPT-001 delivers a TGF-β trap that neutralizes the immunosuppressive cytokine, TGF-β, the better to "warm up" immune cold tumors and to improve anticancer responses, as illustrated graphically below.
Figure 1: Cold to hot tumor transition with AdAPT-001
These positive developments were highlighted at the 2023 ASCO conference held in Chicago from June 2-6 where Tony Reid, Christopher Larson, Scott Caroen, and Jeannie Williams from EpicentRx presented two posters on AdAPT-001 and RRx-001. See Figure 2 on RRx-001 below.
Figure 2: The EpicentRx poster on RRx-001, highlighting FDA Fast Track designation and anti-mucositis data from the randomized Phase 2 trial in first line head and neck cancer
The jam-packed schedules of the EpicentRx team also included quality time spent with Primary Investigators on EpicentRx clinical trials like Dr. Tony Conley from MD Anderson (shown below standing in front of the AdAPT-001 poster) and Dr. Marcelo Bonomi from Ohio State University as well as representatives from different pharmaceutical companies designed to foster connections and deal-making.
Figure 3: Dr. Anthony Conley, a sarcoma specialist at MD Anderson, and AdAPT-001 champion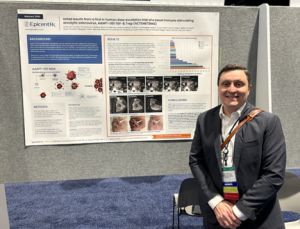 The poster sessions for RRx-001 and AdAPT-001 met with a lot of interest and no real letup in foot traffic or questions, as shown for AdAPT-001 in the Figure below.
Figure 4: Dr. Chris Larson from EpicentRx fields eager questions on AdAPT-001
Buoyed by the Fast Track designation for RRx-001 and evidence of positive antitumor activity with AdAPT-001, EpicentRx is in startup for follow on Phase 2 clinical trials that will hopefully continue the forward momentum and improve outcomes for patients.
Next up for the busy EpicentRx team is the International Chordoma Research Workshop in July and the SITC conference in November. Stay tuned to this blog space for more behind-the-scenes information.